Introducing the 2021 Kia Seltos - A New Option in Small SUV Driving Available Now in Wausau
Since 1994, when Kia first started selling cars here in the United States, drivers throughout Wisconsin, and across the country, have gravitated towards the brand and its unique blend of style, performance, and quality. At Kocourek Kia in Wausau, we're proud to be a part of the Kia tradition of excellence, and we're excited to help you get to know the latest addition to our lineup, the 2021 Kia Seltos.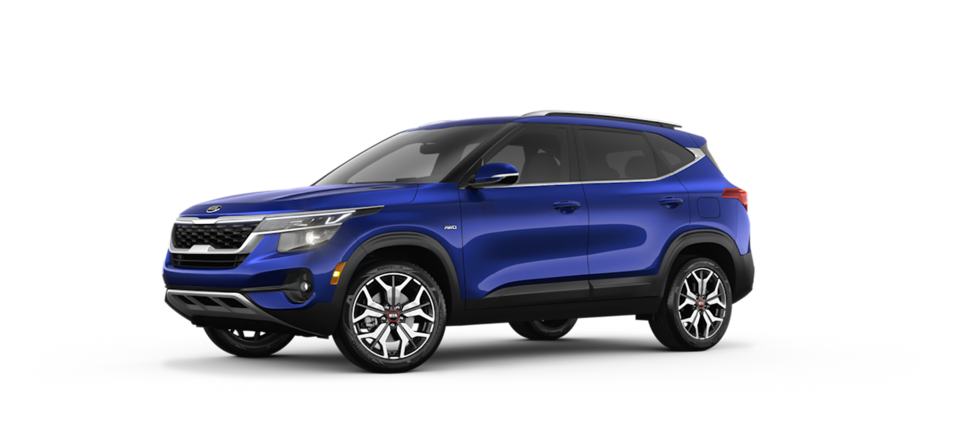 A subcompact vehicle with eye-catching crossover style, the new Seltos is a perfect option for Stevens Point and Marshfield drivers who want the flexibility of an SUV with the drivability of a compact car. It seats five people in two rows, has four doors and ample cargo space for your gear, and it's available in a menu of customization options to help you score the perfect vehicle for your needs.
Design
Where other small SUVs blend in, the 2021 Kia Seltos stands out. It starts with its impressive frontend and grille design, and with its unique, stacked headlight elements that other drivers will notice coming at a distance. Add in its rainbow of attention-stealing color scheme options, including a contrasting two-tone roof option, and this is a crossover that lets you express yourself and your personality.
The inside of this model is as well-crafted and nicely equipped as the exterior, with soft-to-the-touch materials throughout that retain coziness and comfort levels on even the longest road trips. Plus, it gets a slew of modern-day amenities and features, helping to improve your overall comfort, safety, and connectivity.
Trims
In addition to letting you personalize your Seltos experience with exciting color scheme options, Kia also makes this model available in your pick of trims. There are five options altogether, with which one appeals to you coming down to your specific needs for features and power. Options include:
2021 Kia Seltos LX
2021 Kia Seltos S
2021 Kia Seltos S Turbo
2021 Kia Seltos EX
2021 Kia Seltos SX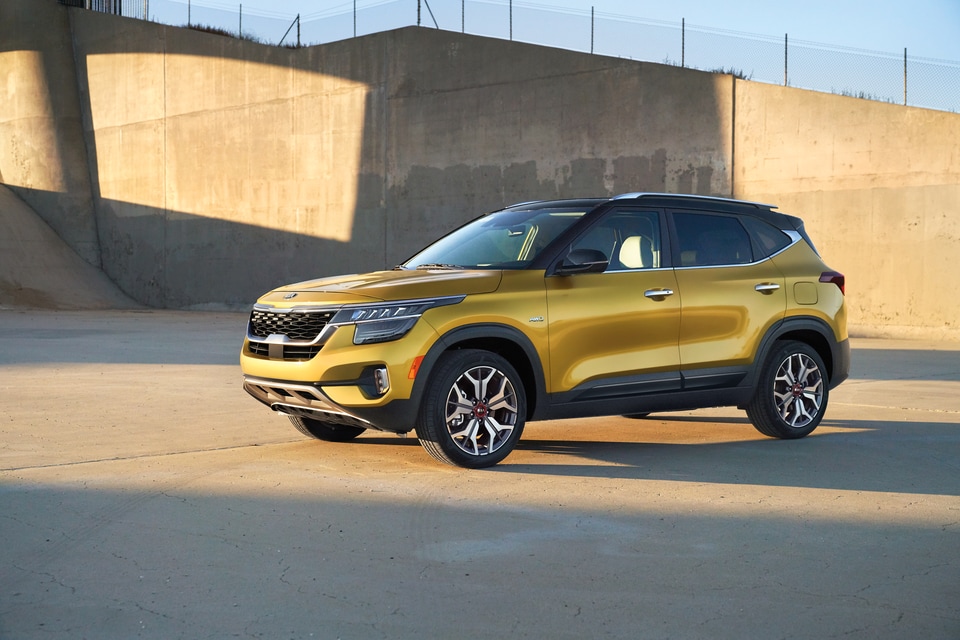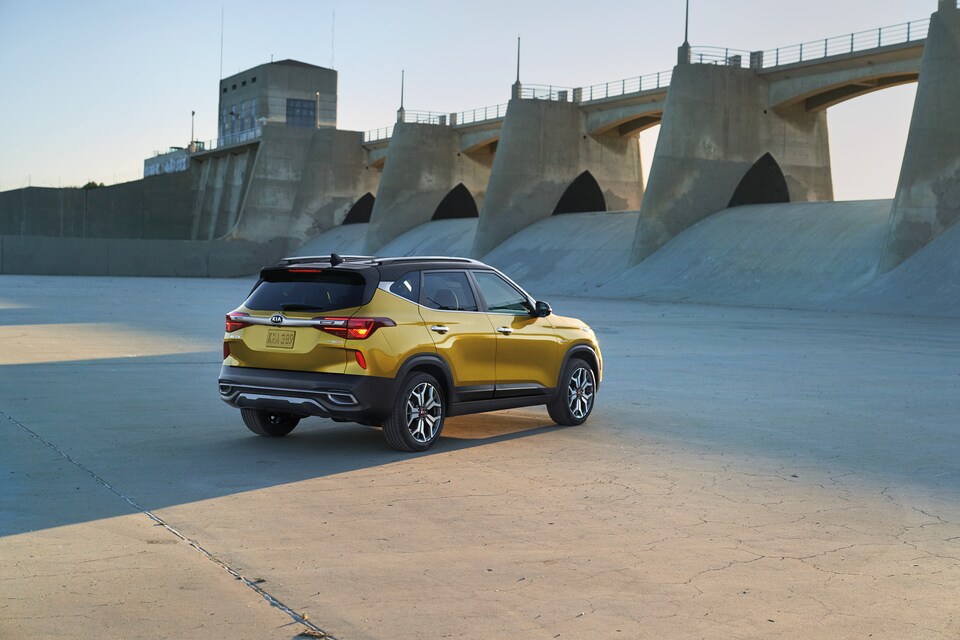 Power and Performance
Unlike some similarly sized, extra-small SUVs from other carmakers, the 2021 Kia Seltos has all-wheel drive available. The added traction and peace of mind this brings to Wisconsin Rapids and Merrill, WI drivers during winter commutes is immeasurable, and not something you'll get with other small, car-based crossovers.
Regardless of which trim level you choose and whether or not you want all-wheel drive, the 2021 Seltos has two powertrain options, both based on an efficient and capable four-cylinder engine.
The lineup starts with a 146-horsepower, 2.0-liter four-cylinder engine. It has front-wheel or all-wheel drive available, 132 pound-feet of torque, and comes with the Seltos LX, Seltos S, and Seltos EX models.
The second option is a turbocharged 1.6-liter four-cylinder engine. Standard with the Seltos S Turbo and Seltos SX, this powertrain is rated for 175 horsepower, 195 pound-feet of torque, and it gets AWD standard.
Features
Style and performance are great. All-wheel drive or front-wheel drive are nice options. But Kia knows that for a vehicle to really make an impact and make you want to drive it, it has to have the features and amenities you're looking for. The 2021 Kia Seltos delivers.
Staring with at the base model LX, this SUV has a variety of sought-after features that are popular with customers, including standard Apple CarPlay, Android Auto, a touchscreen interface, keyless entry, and USB connectivity. Getting even more great features on your SUV is as easy as moving up in trims. Some of our favorite highlights include:
Available lane departure warning
Available auto climate control
Available sunroof
Available navigation
Plus, much more. Learn more about the entire Seltos lineup and everything you can expect from this exciting addition to the Kia collection. Reach out online or stop by in person to arrange an appointment for a test drive, and prepare to be impressed by the 2021 Kia Seltos crossover.
Want to Test Drive the Seltos? Let Us Know!
Hours
Monday

9:00AM - 7:00PM

Tuesday

9:00AM - 7:00PM

Wednesday

9:00AM - 7:00PM

Thursday

9:00AM - 7:00PM

Friday

9:00AM - 6:00PM

Saturday

9:00AM - 5:00PM

Sunday

Closed
See All Department Hours
Dealership Hours
Monday

9:00AM - 7:00PM

Tuesday

9:00AM - 7:00PM

Wednesday

9:00AM - 7:00PM

Thursday

9:00AM - 7:00PM

Friday

9:00AM - 6:00PM

Saturday

9:00AM - 5:00PM

Sunday

Closed
Parts Dept. Hours
Monday

7:00am-5:30pm

Tuesday

7:00am-5:30pm

Wednesday

7:00am-5:30pm

Thursday

7:00am-5:30pm

Friday

7:00am-5:30pm

Saturday

Closed

Sunday

Closed
Service Dept. Hours
Monday

7:00am-5:30pm

Tuesday

7:00am-5:30pm

Wednesday

7:00am-5:30pm

Thursday

7:00am-5:30pm

Friday

7:00am-5:30pm

Saturday

Closed

Sunday

Closed